Equip Your Service Field Force With An Enterprise Mobile App
The biggest advantage of enterprise mobile apps is that they allow employees to do their most urgent and important tasks while being away from their workplaces. For field workers a 'workplace' is simply the base they take off from in the beginning of their working day and get back to only at the end of it.
A mobile enterprise app can solve many issues connected with remote work, significantly improve the quality of your employees' services and provide managers with useful data that will help them deal with working processes and time management better.
But what should you do to develop a hands-on service field force application?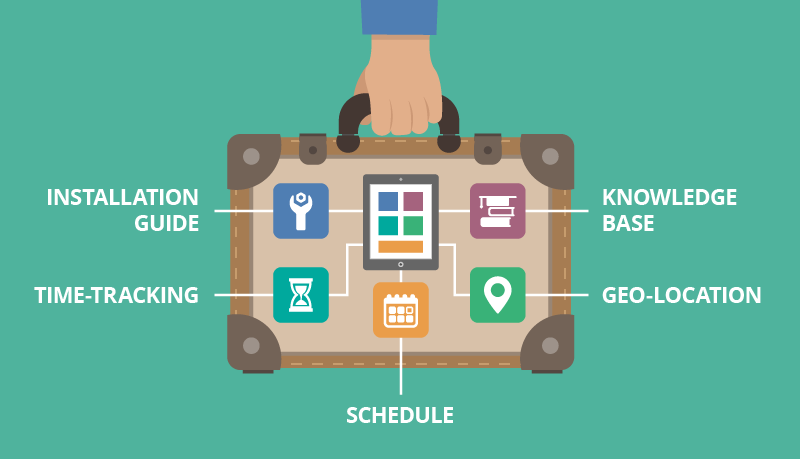 STEP 1: Choose the features
Certainly, you neither want to pay a fortune for your enterprise application nor have it overloaded with features and information. To make an app convenient, it's important to analyze the whole scope of your employees' work and decide what the most essential app features to aid their work are. Below you will find some examples of the features you might take advantage of:
Interactive installation guides
Guide-apps are indispensable for workers with a wide range of equipment to install. Handy references in one's pocket will provide some extra reassurance for your employees and help to avoid potentially costly mistakes.
An enterprise mobile app with a knowledge base could always provide employees with any corporate or product information instantly, wherever they are. No need to make calls, just a peek at the device – et voila.
Time-tracking
At the office, paper timesheets may do their job just fine, yet in the field they are awfully inconvenient. With a time-tracking app your employees won't fidget with a pen that suddenly ran out of ink just to make a table entry. Instead, they will easily choose a specific operation on their device, see its standard duration and input necessary data. Additionally, such an app can record the time spent on each task and automatically upload it to the company's server.
Schedule
Field workers normally receive a day plan as soon as they arrive at work in the morning, and later, with their schedule available via an application, they can easily stick to it. Due to its flexibility, a mobile timetable could allow managers to plan shifts according to the workload, and such changes would be instantly visible for all the app users.
Geo-location
Such a feature can assist in work optimization by offering an employee the most advantageous routes while getting from one client to another. Also, it can be used for driver logs and even remote vehicle diagnostics.
STEP 2: Choose a platform
Once you decide on your app features, it's time to think about the development method that will help you implement the solution you now have in mind.
If you have only iOS or Android devices in your infrastructure, you don't have to think much and can confidently go for native app development. But if your company has a BYOD policy, you have to take a closer look of most applicable options of cross-platform development.
STEP 3: Choose an architecture
One more choice to make is about your future app's architecture: whether you need a back-end or not.
FieldMI strongly recommends to make all enterprise apps server-based. This way, they won't be overloaded with information and will have most of the complex tasks processed on the back-end. Besides, as our Enterprise Software Architect has stated in his recent blog, a back-end is the best way to integrate an enterprise app in both legacy and cutting-edge IT infrastructures.
The pros do not end there: with a back-end you will be able to create a network of your employee's devices and allow the data to be uploaded to the server for analysis and statistics generation. After all, when it comes to product improvements and marketing strategies, nothing can beat the direct feedback and customer data gathered by your field workers.
STEP 4: Find a vendor
Once all the previous steps are taken, you can start searching for a vendor who will implement your idea. We hope that this guide was helpful