Big Data and Its Impact On Business and Mobile Apps
According to the latest reports by various marketing agency, it is estimated that by the year 2021, the population of smartphones user will rise to about 3.8 billion. This enormous growth of smartphone users has resulted in a hike in mobile app development industries. From a small scale start-up to well-settled businesses, every business owner is looking forward to developing a mobile app that can meet customer requirements, to increase the business.
Gone were the days when mobile phones were used just for calling and messaging. In the era of the smartphone, mobile apps have enhanced the lives of humans. This digital era is helping start-ups, freelancers, and enterprises to manage and run their business easily, just with the help of a mobile app.
If we compare the new app era with the traditional business methods, both are just opposite from each other. Since the traditional methods are unnecessary, they resulted in an increase in the competition between various business firms. But now as companies are using mobile apps to offer services, the competition has been reduced to the effectiveness of mobile apps like customer service, product offering or service efficiency, and most important, user experience. The engagement of customers basically depends on the flexibility of your app's user experience.
Since, as the user experience is the most important aspect of mobile app development, many big enterprises and small start-ups are stuck with the question that "how to build an app with the most flexible user experience that can meet the requirements of users across the globe?"
The mobile apps can perform various tasks easily, but to perform these tasks, tremendous use of data is required. To easily manage and analyze all the data, and information tool is required. In this situation, a big data analytics tool plays an important role. Most of the companies use the data collected by the app to obtain information.
The Rapid Change in Growth of Data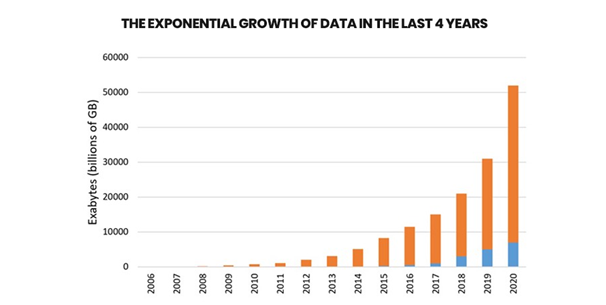 As the figure indicates, in the last 4 years, an enormous amount of data has been produced than the entire previous years. By the year 2020, with around 10 billion MBs of data every second, we will be accumulated with 44 trillion GBs of data. Looking at old figures, approximately more than one trillion photographs were captured using smartphones, in 2017. And around billions of photographs were shared on social media using various mobile phones. In the year 2015, around 1.5 billion mobile devices were sold in China and India's South Asian countries. Now at the end of 2019, there is more than two billion mobile phone user, worldwide.
As the growth of data is directly proportional to the total number of smartphones sold, the increasing number of mobile phone users shows why the data is being increased at this rate. There is no doubt that big data analytics has brought efficiency to mobile app development in various ways.